Travel Merchant Solutions is specializing in getting Travel Hotel Timeshare eCommerce MOTO Internet Merchant Accounts approved for our customers. What makes us different? Our eCommerce MOTO Internet specialists have worked for and operated multiple eCommerce MOTO Internet companies themselves. We have been through difficult start ups all the way through successful ventures. We will be surprised if you have a problem or situation we have not encountered. You will communicate with an experienced eCommerce MOTO Internet specialist, whether you just launched your website or are an experienced business owner.

Your business will normally fall in to one of these categories:

1. You already have a travel merchant account but want lower rates, increased limits and better service (Annual volume: 1 mill +)
This scenario describes the typical eCommerce MOTO Internet company who started small, got big, and have been through all the growing pains. At this point you need a combination of higher processing limits, lower discount rates, less annual accounting requirements, or an domestic setup (or all). Your company's annual gross sales have reached 7-8 figures, but you need a different merchant account solution. If this scenario is close to your situation, we know exactly how to help you - and we know you will be very satisfied with our merchant account solution which include a gateway that is easy to integrate, unique credit card descriptor, online banking with wire/debit/credit card options, high-volume processing limits, low discount rates, real time processing, outstanding customer service, and more. We can get you up and running in 10-14 days if you are serious and can produce the required documentation within the next 2-3 days.

2. You have a new business and need a travel agent merchant account (Annual volume: 12K+)
Your business is new and you are not quite sure what you need, except that you need a way to take payments for the products or services you sell on your website. Everyone working for our company has been in this situation! We can help you all the way through the process of getting your own agent merchant account. Contact us today for advice and more information.

3. You have a smaller eCommerce MOTO Internet operation but want an agent merchant (Annual volume: 250K+)
This scenario fits the eCommerce MOTO Internet company which have been in business for a while and has a steady smaller operation. The local merchant account processors fills your needs, but you are ready to lower your rates. Lower discount rates, higher service processing volumes and zero account requirements are simply more attractive. Company owners in this category will have many of the same characteristics as those selling for millions every year. The most important is that you are willing to product the required documents. If so we can get up and running in 10-14 days.



Please review the 3 steps below (timeframe: 1-2 days):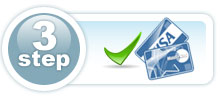 Your merchant application is approved, the gateway is integrated, and you are ready to start selling! You will receive the following:

Your own credit card descriptor (e.g. www.yourdomain.com , your customer service number)
Your own gateway
An domestic bank account where all the deposits are made
A reporting account which breaks down all the transactions in details
Many other banking products are also available (credit/debit card, savings accounts, CDs, etc.)